CIRCLES present at European Parliament round table discussion to share insights about microbiome research
On March 15th, 2022, the European Parliament hosted a high-level roundtable discussion for EU-policymakers and researchers to share knowledge and insights. The event's discussion was focused on food-related R&I, as well as legislative developments pertaining to microbiome research.
The discussion, hosted by Elsi Katainen, Finnish Member of the European Parliament and Vice-Chair of the Agri Committee, offered an opportunity to exchange thoughts on mutual needs, expectations and strengthen shared expertise to solidify partnerships.
University of Bologna present on behalf of CIRCLES
The event, moderated by Bettina Schelke of the European Food Information Council (EUFIC), included a discussion on the topic: 'Microbiome Innovation Actions (IA) to solve major societal challenges'. Multiple organisations and experts contributed to the discussion, including CIRCLES coordinator Professor Marco Candela, from the University of Bologna, Italy.
CIRCLES' impact on the European food system
Professor Candela reemphasized the important role of CIRCLES' microbiome research in supporting the goals of the European Green Deal. He stressed that European food systems have tremendous potential for improvement, and that microbiology constitutes a crucial element for revolutionising the way food is cultivated in Europe.
He further explained that the project's research findings are aiding the design of an intervention strategy to combat 'bad' microbes, helping to improve the cultivation of food along different value chains. More specifically, the CIRCLES project focusses on improving the cultivation of spinach, tomatoes, poultry, swine, farmed and wild salmon, as well as seabream.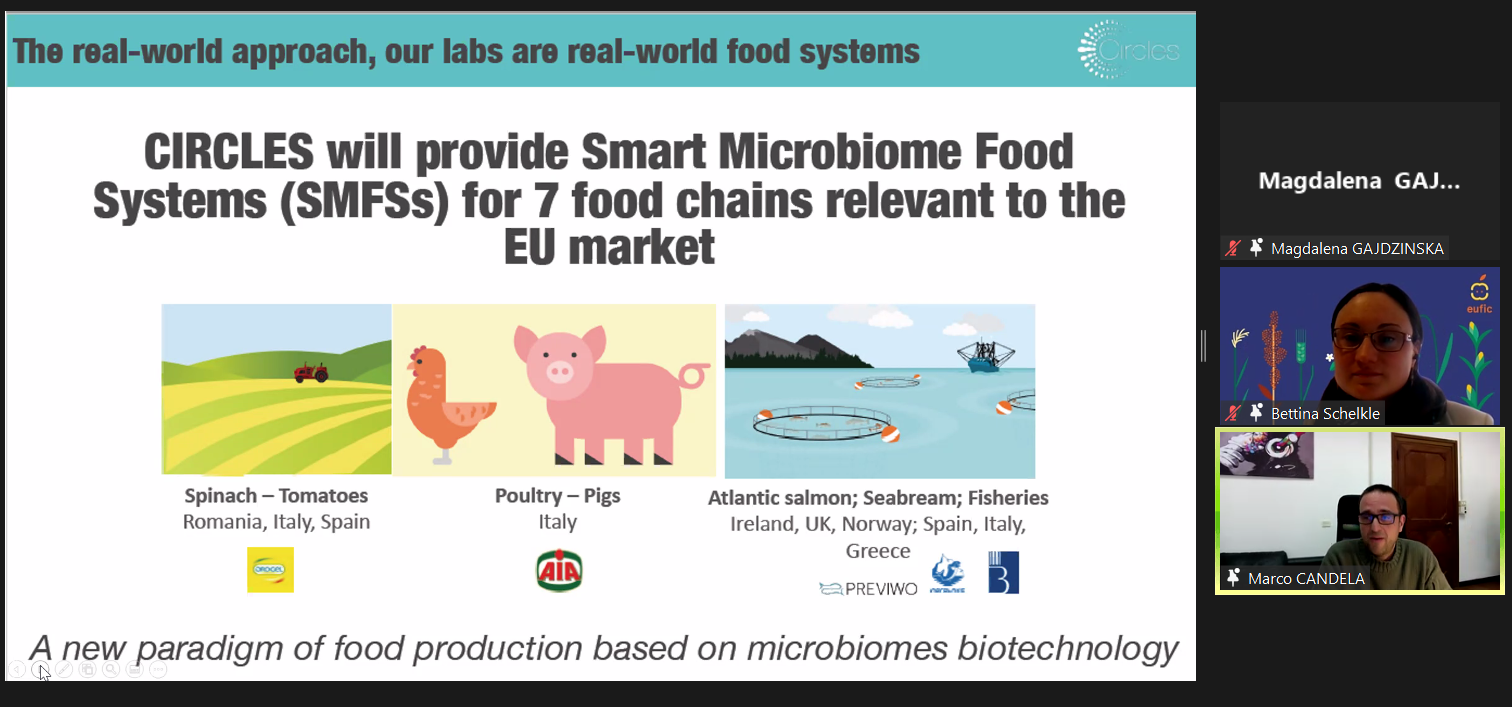 A sustainable future
The roundtable discussion presented an opportunity for various researchers to showcase their work and inform the European Parliamentarians on possible R&I related challenges. The combination of policy and research was a great success, giving new insights on the trajectory of microbiome research. The discussion showcased the substantial progress made in Europe, but also underlined the need for additional future research. CIRCLES is up for the challenge, helping to support the transition towards a more sustainable European food system.
Interested in the whole discussion? Click on this link: Highlights of the roundtable with the EU Parliament – MicrobiomeSupport