How microbial communities help the jewel anemone through the change of the seasons
Just like us humans, every animal or living creature, has to deal with the yearly changing of the seasons. This can be challenging, especially in environments where seasonal changes are significant, and the ecosystem is delicate. In the new CIRCLES study: Seasonal Changes in Microbial Communities Associated with the Jewel Anemone Corynactis Viridis, researchers have analysed the role of microbiomes and how they can be a key factor for marine organisms to adapt to the changing of the seasons.
Corynactis Viridis in the North Adriatic Sea
Increasing evidence already indicates that microbiomes play an important role in the biology of marine organisms. The newly released CIRCLES study, however, not only shows the importance of the microbiomes as a significant factor in daily life, but also how the microbial communities help the Jewel Anemone adapt to seasonal changes. The study was conducted in the North Adriatic Sea, where during three seasons, the microbiome community composition in Jewel Anemones or Corynactis Viridis was studied using 16S rDNA sequencing. It was demonstrated that Corynactis Viridis-associated microbial communities are unique and significantly different from those in the surrounding seawater, by comparing the two different groups.
Winter-summer transition
Interestingly, there were also remarkable changes in the Corynactis Viridis microbiome according to seasonality. In particular, the Corynactis Viridis microbiome is capable of rearranging its overall ecological structure during the winter-summer transition, moving from an oligotrophic community to a heterotrophic ecosystem. This means the diversity and interaction within the microbiomes increases during the winter-summer transition. The findings demonstrate that the Corynactis Viridis has a unique associated microbiota. It is suggested that the microbiota is capable of not only adapting to seasonal changes itself, but also to the host physiology, by establishing a microbiome-host interaction process.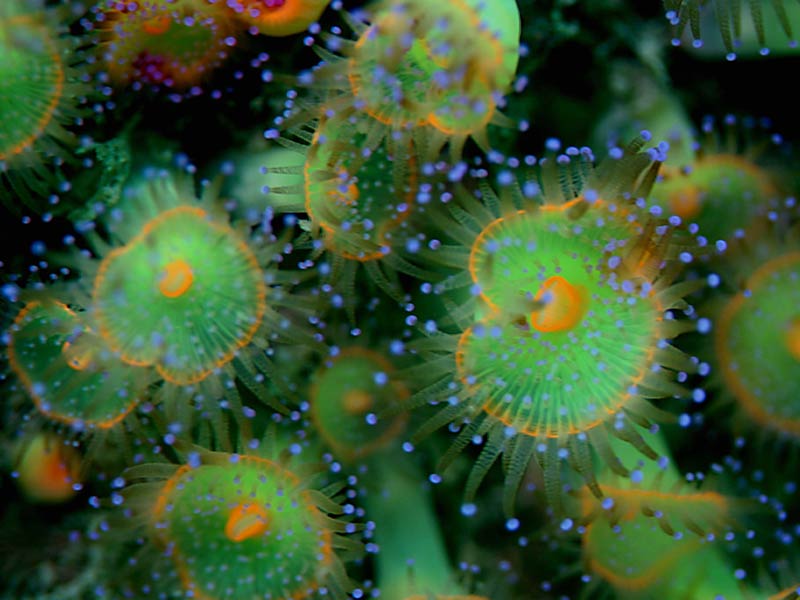 Jewel anemone or Corynactis Viridis
Article reference:
Palladino G, Biagi E, Rampelli S, Musella M, D'Amico F, Turroni S, Brigidi P, Luna GM and Candela M (2021) Seasonal Changes in Microbial Communities Associated With the Jewel Anemone Corynactis viridis. Front. Mar. Sci. 8:627585. doi: 10.3389/fmars.2021.627585